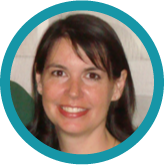 It all started when …
In compulsory gymnastic routines, we had to demonstrate certain skills, with each having a certain point value. When we made an error, points were deducted for that error. I always developed my routines around these point values, adding skills to get me to the total I needed while compensating for any wobbles or falls along the way. I was also the kid who counted my Halloween candy and separated it into categories before eating a single piece. (I also did this with my own kids' candy bags!) While working as a nonprofit program manager, I found that I really enjoyed the data aspect of my job, but because time was short, data analysis was always falling off my radar. This motivated me to want to help other organizations and businesses with this analysis.
About Angie
Angie Sullivan has spent more than a decade evaluating organizations, writing grants, managing programs and developing workforces. Working in both the public and nonprofit sectors, she enjoys helping her clients quantify their impact so that they can effectively communicate it to their stakeholders and decision-makers. Angie never takes numbers at face value, but instead wants to know the meaning behind them. Understanding why a number is what it is helps her spot areas for improvement in her clients' processes, which ultimately can lead them to better outcomes.
How Angie makes data easy
Angie breaks the data process down for her clients into easy-to-understand, easy-to-tackle steps and then encourages them to use whatever resources they have to move the ball forward. Whether they manage to move the ball an inch or 100 yards, Angie sees that movement as progress, which in time, will manifest in benefits to the organization or business and its clientele.
Angie's past experience
Angie was most recently a data consultant to the Virginia Early Childhood Foundation (VECF), where she also provided support on data and evaluation work to local Smart Beginnings coalitions across the state. In this role, she worked directly with state agencies to access and analyze data on various school readiness indicators. Prior to this role, Angie was the first program manager for Smart Beginnings Rappahannock Area (SBRA). There she wrote a comprehensive needs assessment utilizing multiple information sources, developed a strong Leadership Council and built lasting relationships with community partners, funders and elected officials. Angie began her career in federal and state government, analyzing data, interpreting survey results and monitoring database development.
Education
B.S. in Psychology from Virginia Tech
M.S. in Industrial and Organizational Psychology from University of Central Florida