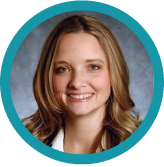 It all started when…
I was always good at math, and after taking all the classes available to me at my small high school, my teachers suggested that I take a probability and statistics class my senior year. It turned out to be one of my favorite classes. While studying psychology in college, some friends and I started a "Psych Club," which essentially meant we did our professors' research work. Instead of joining sororities or going to parties, we'd spend hours entering data. But it still didn't occur to me that research was my calling until I was out of school and working as an administrator at a school for autistic children. At a conference, one of the presenters spoke about finding your talent. After wrestling with what I was really good at, I finally landed on my love for numbers and making sense of them.
About Patty
As a Licensed Clinical Social Worker (LCSW) and a Certified Six Sigma Green Belt (CSSGB), Patty Moran has measured organizations' performance for 15 years, helping them to improve quality and spur transformation. Her work has included implementing agency-wide management information systems; capturing and analyzing employee, leadership and stakeholder feedback; and ensuring knowledge retention during transition periods. While Patty has worked with a variety of clients — from the Department of Defense to small nonprofits — her work has always been about figuring out why people do what they do and how to improve their processes and programs.
How Patty makes data easy
Clients are always laser-focused on their mission, which makes finding the time for analysis and change seem impossible. Patty takes that responsibility off their shoulders, helping them think through their processes and figure out exactly what they need to succeed in their mission. She then turns their piles of data, which may have felt like a waste of time, into information that is meaningful to them and often transformational to their organization or business.
Patty's past experience
Patty worked as a management consultant and director of quality improvement for St. Joseph's Villa before joining the Knowledge Advisory Group team. In these roles, she developed, implemented and analyzed performance measures and developed agency-wide systems and processes, while ensuring compliance with licensure, accreditation and other regulatory standards. Prior to working with St. Joseph's Villa, Patty developed surveys, interviews, web-based data tracking systems and other data collection tools for Transformation Systems, Inc. She has put her data skill set to work in federal, state and local government settings as well as for the private and nonprofit sectors.
Education
B.A. in Psychology, Early Childhood from Christopher Newport University
M.S.W. in Clinical and Policy/Administration from Virginia Commonwealth University
Licensed Clinical Social Worker (LCSW)
Lean Six Sigma Green Belt (LSSGB) Certification